LUCCHESE BRINGS 2020 SILVER CUP® HOME
08.11.2020

CARPINTERIA, CA – Playing as a strong and cohesive unit throughout the tournament, Lucchese (John Muse, Nico Escobar*, Facundo Obregon, Jeff Hall) entered the Silver Cup® Final on Sunday, August 9, motivated to defeat their final opponent Antelope (Grant Palmer, Matt Coppola*, Gringo Colombres, Santiago Trotz), who also held a 4-1 record. On their heels throughout the first half, Lucchese turned the scoreboard around in the third, gradually extending the lead to secure the coveted trophy 15-11 for the first time in six years. Last hosted by Santa Barbara Polo & Racquet Club in Carpinteria, California, in 2016, Lucchese raised the trophy in both 2012 and 2014.
"The momentum switch came after we won a throw-in and found Nico [Escobar] downfield to make an extraordinary goal. We won a few more throw-ins before halftime and a Penalty 1 was awarded in our favor, and that is when we got all our confidence back."  – Facundo Obregon

 
Scooping up two consecutive Penalty 2 goals to open the game, Antelope jumped ahead in the first chukker. Going straight to Antelope's 8-goaler, Hall stole the ball from Colombres with lightning agility and hammered a deep neckshot to land Lucchese on the board. "We really targeted Gringo [Colombres] to make the defensive plays so he wouldn't be able to be the offensive player," Hall commented. Not to be outdone, Colombres retaliated at the end of the chukker by winning the throw-in and running uncontested to goal. Both sides capitalizing on penalty conversions early in the second, Coppola made his first field goal happen with a hook on Obregon. Perfectly positioned upfront to receive passes, Nico Escobar answered back with two abrupt and impressive goals to keep Lucchese within one 6-5. Picking up momentum with halftime rapidly approaching, Lucchese charged full steam ahead to pick up four consecutive, the last of which was another offensive play in which Hall stole possession from Colombres. Leaving Antelope scoreless, Lucchese entered the half with the largest lead of the day 9-6.
Returning to the field, Antelope was anxious to make up for lost time and quickly added two goals with now every player represented on the scoreboard. Both Obregon and Hall delivering for Lucchese, Hall once again ended the fourth chukker with a stellar run on Best Playing Pony Twiggy, extending the gap 12-8. Both teams playing excellent defense to protect their goal, neither was able to score until under the three-minute mark when Coppola and Trotz's teamwork produced two additional goals. As Antelope decreased the disparity to three, Lucchese did not intend to give them an inch headed into the final chukker. Proving deadly from the Penalty 2 line, Coppola converted his fourth penalty goal of the game at the beginning of the sixth allowing the team in red to creep closer to their opponents. Pushing himself until the very end, Hall thundered down the field to score once more from behind. A final penalty opportunity sealed the win for Lucchese who took the trophy 15-11.
Although this is the third Silver Cup® win for team owner John Muse, he still feels the same sense of pride that he felt eight years ago. "To win this tournament still feels like a very special accomplishment," Muse said. "I think that the success of our team is due to the teamwork that my teammates exhibit during every match and the ability to work for one another which our coach Todd Offen instills in us. Sometimes people forget that polo is a team sport and our horsepower and teamwork got the job done in the final."
MVP Nico Escobar prepares to hit a booming shot.
Facundo Obregon also emphasized the strong qualities which each teammate brought to the game. "Nico [Escobar] was accurate on goal, which is so important to bring into a final," Obregon said. "Both Jeff [Hall] and John [Muse] had a really strong game, and I feel I was steady and had to sacrifice myself on defense a bit. When it was all over it felt great to hold up the Silver Cup®."
Most Valuable Player Nico Escobar pictured with USPA Pacific Coast Circuit Governor Danny Walker.


Nico Escobar was named Most Valuable Player. "It feels amazing being able to win the Silver Cup®" Escobar shared. "What worked well for our team was that we believe in one another and have a brotherly relationship."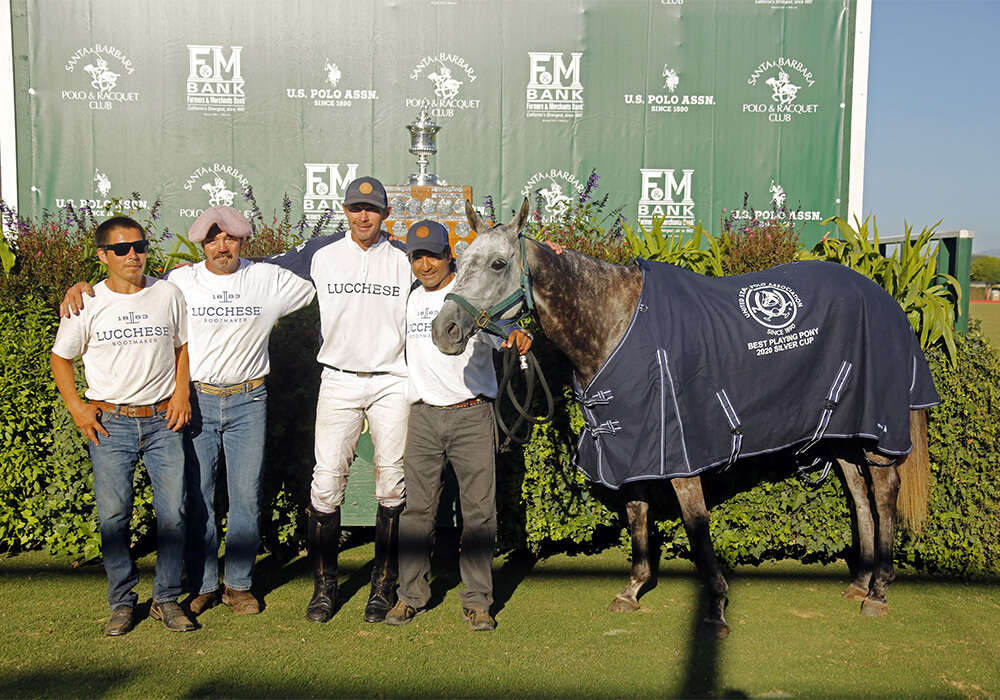 Best Playing Pony Twiggy, played and owned by Jeff Hall, pictured with Juan Garduno Then, Jose Oyeneder, and Dario Arabena.
Best Playing Pony honors were presented to Twiggy, an 8-year-old dark grey/blue mare played by Jeff Hall in the fourth chukker. "Twiggy was bred and trained by Ruki Ballieu in Australia," Hall said. "She is a very quick and handy horse with plenty of speed. I was able to score two standout goals on her which earned her the award."
*Nico Escobar is a member of Team USPA. Matt Coppola is a graduating member of Team USPA. Team USPA is a USPA program designed to enhance and grow the sport of polo in the United States by identifying young, talented American players and providing mentored training and playing opportunities leading to a pool of higher rated amateur and pro players and the resultant giveback to the sport of polo.
Article courtesy of the U.S. Polo Association. All photos ©David Lominska.